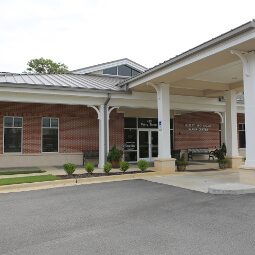 Harris Center
425 Perry St
Email:

[email protected]

Phone: (334) 501-2930
Hours:

M-F: 8AM-5PM

Gabrielle Filgo
Community Programs Coordinator
Phone: (334) 501-2946
Email:

[email protected]
address-location
2020 Ride and Seek: A Bicycle Safety Adventure!
Hosted by the City of Auburn and the Auburn Bicycle Committee
The first Ride and Seek: A Bicycle Safety Adventure will take place on Saturday, April 4, 2020 at the Parks and Recreation Complex located at 425 Perry Street in Auburn. For those who would like a t-shirt, registration will begin on Monday, January 13, 2020 and run through Friday, March 20, 2020. Walk-up registration will also be accepted on the day of the event, but no t-shirts will be available at that time.
The event will begin at 9am with stations on-site covering various bike safety topics such as helmet fitting, bike fitting, lights and reflectors as well as proper hand signaling. 3-mile rides will depart intermittently with opportunities to win prizes along the route! Tickets are $5 without a t-shirt or $10 with a t-shirt.
Ride and Seek is sponsored by the Auburn Bicycle Committee and the City of Auburn. The Bicycle Committee seeks to encourage biking activities, endorse bicycle safety, promote the health benefits of this great leisure sport and emphasize local, bike-friendly neighborhoods. The event will include live music as well as breakfast and lunch for purchase from Drive by Tacos. The door prize drawing will take place at 11:30am.
If you have questions or would like to be a sponsor please email Gabby Filgo at [email protected]