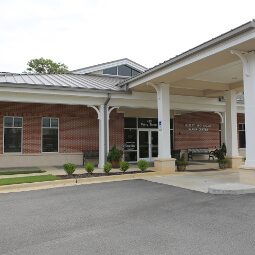 Harris Center
425 Perry St
Phone: (334) 501-2930
Hours:

M-F: 8AM-5PM

Gabrielle Filgo
Community Programs Coord
Phone: (334) 501-2946
Email: gfilgo@auburnalabama.org
Please register in advance for events at the Harris Center Monday through Friday 8am - 5pm. Fall registration begins Monday, August 7th. The first two weeks of registration are reserved for Auburn residents.
Movie Night at the Harris Center
Nothing like enjoying food and a good flick together! Come join us for a movie and dinner on select Thursday nights this fall. More movie suggestions welcome! $5 (includes dinner). Payable to the AAB.
March 14 • First Man
April 25 • Green Book
May 16 • Mary Poppins Returns
Age: 50+ Day: Thursday Dates: 3/14, 4/25, 5/16 Time: 5:30 - 8 p.m. Location: Harris Center
Karaoke Night and Dinner
Join us for another crazy Karaoke Night! We will sing the night away to songs both old and new. Come prepared to belt out your favorites! $5 per person. Payable to the AAB. Please register by Friday, March 1st at 5 p.m.
Age: 50+ Day: Tuesday Dates: 3/5 Time: 6 - 8:30 p.m. Location: Harris Center
Easter Egg Hunt and Lunch
Grab your bunny ears and come out for the 50+ Easter egg hunt and lunch! Gather for fellowship and a good meal before searching high and low for eggs all over the Harris Center. Leave no stone, leaf or chair unturned in order to find the golden egg! Prizes awarded for finding the golden egg as well as the most eggs. $5 per person. Payable to the AAB. Register by Friday, April 5th at 5pm.
Age: 50+ Day: Friday Dates: 4/12 Time: 12-2p.m. Location: Harris Center
Match Game and Lunch
"Match Game" features two competitors and a panel of six "celebrities." Competitors answer questions and the panelists try to match their answers. After three rounds of the game, the remaining player competes against three panelists. Each matching answer increases their winnings. In the final round, the player spins the star wheel. Prizes will be awarded! $5 per person. Payable to the AAB. Register by Tuesday, May 21st at 5pm.
Age: 50+ Day: Friday Dates: 5/24 Time: 12-2p.m. Location: Harris Center