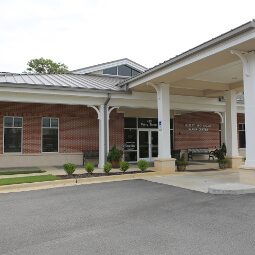 Harris Center
425 Perry St
Phone: (334) 501-2930
Hours:

M-F: 8AM-5PM

Gabrielle Filgo
Community Programs Coord
Phone: (334) 501-2946
Email: gfilgo@auburnalabama.org
Please register in advance for events at the Harris Center Monday through Friday 8am - 5pm. Fall registration begins Monday, August 7th. The first two weeks of registration are reserved for Auburn residents.
Movie Night at the Harris Center
Nothing like enjoying food and a good flick together! Come join us for a movie and dinner on select Thursday nights this fall. More movie suggestions welcome! $5 (includes dinner). Payable to the AAB.
December 6 • The Man Who Invented Christmas January 24 • Won't You By My Neighbor? (Mister Rogers Documentary) February 21 • The Little Mermaid (2018)
Age: 50+ Day: Thursday Dates: 12/6, 1/24, 2/21 Time: 5:30 - 8 p.m. Location: Harris Center
White Elephant Gift Exchange & Holiday Dinner
Celebrate the holidays at our white elephant gift exchange and dinner! Each participant must bring one wrapped gift that costs about $10 and a covered dish to share for dinner. The gift can be traditional or a "gag gift." We will all select a number, which determines our gift selecting order. At each person's turn, they can choose to open a new present or "steal" another person's unwrapped gift. When a person's gift is stolen, that person chooses another wrapped gift to open. The game is over when the last person has taken their turn. Fun, laughter and opposition are sure to ensue! FREE to the public. Please register by Friday, December 7th by 5 p.m. $10 wrapped gift and covered dish required.
Age: 50+ Day: Thursday Dates: 12/19 Time: 6 - 8:30 p.m. Location: Harris Center
New Year New You Chair Massages
Happy New Year! Stop by the Harris Center for a complimentary chair massage courtesy of the students from Better Bodies Massage Institute.
You MUST register for a time slot in advance. Walk-ins will not be accepted. FREE to the public. Limited to 20 participants. Must register for a time slot by Monday, January 14th at 5pm.
Age: 50+ Day: Wednesday Dates: 1/16 Time: 2-4 p.m. Location: Harris Center
The Not-So-Newlywed Game
Love is in the air this Valentine's Day! Or is it? Join us for the first ever Not-So-Newlywed Game! In the traditional version of The Newlywed Game, three recently married couples answer questions about each other hoping to win cash. The couples earn points for each correct response with the highest-scoring couple winning a prize - usually a trip for a "second honeymoon." In OUR version of the Not-So-Newlywed Game your teammate can be your spouse, partner, child, sibling or even a friend! Don't let the name stop you from signing up! The winning team will win a prize! $5 to cover the cost of dinner. Please register by Friday, January 8th at 5pm. Payable to the AAB.
Age: 50+ Day: Tuesday Dates: 2/12 Time: 6-9 p.m. Location: Harris Center