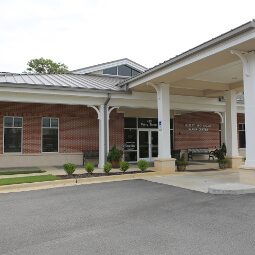 Harris Center
425 Perry St
Phone: (334) 501-2930
Hours:

M-F: 8AM-5PM

Ann Bergman
Public Relations Specialist
Phone: (334) 501-2936
Email: abergman@auburnalabama.org
LeisureLink is The City of Auburn's Parks and Recreation Weekly Newsletter
October 16-22, 2017
Final Fall Sundown Concert Thursday October 19 Kiesel Park
The final fall sundown concert in October will be Alabama Avenue. Bring a lawn chair or blanket and enjoy the tunes in the park. The concert will begin at 6 p.m. There will be inflatables for the children. All concerts are FREE to the public.
Alabama Avenue will rock the park southern rock, classic rock, contemporary country and classic country tunes.
Kiesel Park is located at 520 Chadwick Lane in Auburn. For the most up to date information on performers delays or cancelations, visit the City of Auburn Facebook page at https://www.facebook.com/CityofAuburnAL/. For more information on the fall sundown Concert Series contact Jarrett Jones at (334)501-2930.
Youth and High School Basketball Registration ends Thursday October 19
Auburn Parks and Recreation Youth and High School Basketball registration ends Thursday, October 19. There will be one day of walk-in registration on Tuesday, October 17 at the Dean Road Recreation Center from 6-6:30 p.m. To register for youth or high school basketball league visit https://www.auburnalabama.org/basketball/
The 2018 Auburn Parks and Recreation Winter brochure is now available online, and hard copies are available at all Parks and Recreation facilities, the Auburn Library and Auburn City Hall. To view the winter brochure online, visit www.auburnalabama.org/parks.
Registration for 2018 winter programs begins Monday, Nov. 6. Registration for youth and high school basketball began on Sept. 25 and will end Oct. 19.
To register online go to www.auburnalabama.org/basketball. You may register for winter programs in person at the Harris Center, 425 Perry St., beginning Monday, Nov. 6.
For additional information, email Ann Bergman at abergman@auburnalabama.org or call (334) 501-2930.
Friday Nights at the Arboretum
3…2…1…Action! Join the Donald E. Davis Arboretum and Auburn Parks and Recreation for Friday Night Fright Nights – a black and white monster movie series – on Fridays in October. This Friday's movie on October 20 will be The Creature from the Black Lagoon (1954).
Gates will open at 6 p.m. and attendees will be able to walk the Arboretum trails and get their spot early. Patrons are encouraged to bring blankets, chairs and picnic dinners to enjoy the evening. From 6 – 7:15 p.m. on select evenings, there will be monster-themed activities. Join the Facebook event group at www.facebook.com/CityofAuburnAL and find out what each activity is. Parking is available near the entrances on three sides: along Lem Morrison and the Poultry Science parking lot, along Garden Drive and in the Arboretum parking lot off Garden Drive. Patrons are encouraged to carpool or walk. The event is FREE and open to the public.
For more information about the Donald E. Davis Arboretum, visit auburn.edu/cosam/arboretum. To learn
more about events, activities and programs hosted by the City of Auburn, visit auburnalabama.org/parks.
Saturday Stroll October 21
Join Active Auburn and the Auburn Heritage Association for the Saturday Stroll, a walk through the historic Pine Hill Cemetery, on Saturday, October 21 from 9 a.m. - noon.
Members of the Auburn Heritage Association and Active Auburn staff will led guests on walks around the cemetery to learn about Auburn's history, all while getting some exercise and enjoying the changing of the seasons!
Pine Hill Cemetery was established in 1837 and is Auburn's oldest cemetery, with its oldest grave dating to 1838. The cemetery is final resting place of Auburn's founder, John Harper, and five Auburn University presidents.
Jingle Jog Registration
It's time to run Auburn! Active Auburn's December event is one that you will not want to miss!
Join Active Auburn, the Downtown Merchants Association and the City of Auburn for the Jingle Jog 5k and Santa Stroll Fun Run on Saturday, December 9 beginning at 4 p.m. in downtown Auburn!
The fun run/walk kicks off at 4 p.m. and will begin and end at Toomer's Corner and venture onto campus. The 5k race will start at 4:30 p.m. and also begin and end at Toomer's Corner after circling the Auburn University campus. On the race course, participants can expect to see hidden jingle bells and Santas of all shapes and sizes!
Participants are encouraged to come in their best Christmas attire because Active Auburn will also host the Best Dressed Runner/Walk Contest and the Ugly Christmas Sweater Contest, with awards presented after the races are complete.
Proceeds for this event will benefit the addition of an inclusive playground at Town Creek Park. Attendees are also encouraged to bring an unwrapped toy, to be donated to Toys for Tots.
All participants who register by Thursday, November 30 are guaranteed a race performance t-shirt. Please note: only paying and registered participants will be eligible to receive a shirt.
Registration: October 7 – November 30:
Santa Stroll Fun Run/Walk: $20
Jingle Jog 5k: $25
All prices listed are per participant. The Santa Stroll Fun Run/Walk course is stroller-friendly and children age 12 months and under are free. Day of registration for this event will begin on Toomer's Corner at 3:15 p.m. Santa Stroll day-of pricing will be $25 per participant. Jingle Jog pricing will be $30 per participant.
After the run, stay in downtown Auburn for the Downtown Holiday Celebration, featuring live music, holiday – themed activities and a special holiday surprise!
To register for this event, visit the race website at https://runsignup.com/Race/AL/Auburn/ActiveAuburnJingleJog5kandSantaStrollFunRun
To learn more about the Active Auburn Jingle Jog 5k and Santa Stroll Fun Run/Walk, visit activeauburn.org. Active Auburn is a health and wellness campaign presented by Auburn Parks and Recreation and sponsored by Blue Cross and Blue Shield of Alabama, True40 Studio, Kinnucan's Specialty Outfitters and the City of Auburn. To learn more about the programs, events and activities hosted by the City of Auburn / Parks and Recreation, visit auburnalabama.org/parks.
Auburn Stride Walkers
The Auburn Parks and Recreation Department is offering a walking program, Auburn Stride Walkers, for citizens who are interested in walking various City walking trails as a group.
Walks will be held on Mondays, Wednesdays, and Fridays at 8:30 a.m. Participants can walk at their own pace and distance. The Auburn Stride Walkers is a great way to have fun, make friends, and walk your way into a healthier lifestyle.
Week of October 16 Schedule
Oct 16 Dean Road Recreation Center
Located at 307 South Dean Road
Oct 18 Kiesel Park
Located off Chadwick Lane
Oct 20 Town Creek Park
Located on South Gay Street
Oct 23 Dean Road Recreation Center
Located at 307 South Dean Road