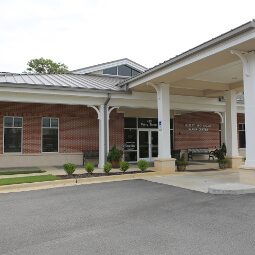 Harris Center
425 Perry St
Phone: (334) 501-2930
Hours:

M-F: 8AM-5PM

Ann Bergman
Public Relations Specialist
Phone: (334) 501-2936
Email: abergman@auburnalabama.org
LeisureLink is The City of Auburn's Parks and Recreation Weekly Newsletter
Week of August 13-17, 2018
Online Public voting to determine Auburn/Opelika Skate Park design
Two Skate Park firms met with the Auburn and Opelika general public in June to gather input from residents on what they wanted incorporated into the new joint Auburn-Opelika skate park. Two firms have submitted one design and the Auburn and Opelika parks and recreation departments are now encouraging residents to vote for the design they would like to see come to fruition. Residents will have until Sunday, August 19, to cast their vote.
Spohn Ranch and American Ramp Company have each submitted a design. To review the designs and cast your vote visit https://www.auburnalabama.org/parks/skatepark/ .
Boykin Community Center Open House Celebration Thursday, August 16
The City of Auburn will celebrate the renovation of the historic Boykin Community Center at an open house celebration on Thursday, Aug. 16. The public is invited to take a tour of the improvements during the open house from 5:30–7 p.m. A first phase of renovations began at the Boykin Community Center 16 months ago and are now complete. Several areas have been upgraded including the auditorium, restrooms, tenant spaces, and the fitness center. In addition to aesthetic enhancements, there have been heating and cooling, ADA improvements, security and electrical upgrades throughout the facility to create a safer, quality space for the community to enjoy. Representatives from Boykin Community Center's four tenants will also be present during the event to share about their organizations and answer any questions. Boykin Community Center is located at 400 Boykin Street. For more information contact Ann Bergman at (334) 501-2930 or email abergman@auburnalabama.org.
Fall Program Registration Going on Now
Add some fun to the fall season with Auburn Parks and Recreation's fall programs! Various programs are offered for all ages and interests, including athletics, art, dance and more! Registration must be completed in person at the Harris Center, located at 425 Perry St. Brochures with program listings are available at all parks and recreation facilities, City Hall and the Auburn Public Library. A complete list of available programs can also be viewed online at https://www.auburnalabama.org/parks/programs/2018%20Fall%20Parks%20and%20Recreation%20Brochure%20Final.pdf.
Itty Bitty Auburn Scavenger Hunt
There's nothing little about this scavenger hunt—Itty Bitty Auburn Scavenger Hunt is back and bigger than ever for the Alabama Bicentennial Celebration as we "Honor Our People" in 2018! The worksheet features 23 itty-bitty sights in historic Pine Hill Cemetery and four bonus sites in Auburn's four other cemeteries: Baptist Hill, Memorial Park, Town Creek and Westview. Completed worksheets are due at the Harris Center by Friday, August 31 at 5 p.m. Participants who answer all questions and bonus questions will be entered into the Grand Prize Drawing. Winners will be announced Tuesday, September 5. All participants are asked to be considerate of other visitors and burials in the cemeteries and to remember that cemeteries open at sunrise and close at sunset. Interested participants can download the worksheet by clicking here. Hints regarding each of the sites will be published to the City's Facebook event group and on the City of Auburn's Instagram page at cityofauburnal.
Tickets On Sale for AACT's "Silent Sky"
Lights, camera, action! The Auburn Area Community Theater (AACT) is ready to begin its 2018-2019 show season and will open the season with a performance of "Silent Sky," by Lauren Gunderson. This play is based on the true story of Henrietta Swan Leavitt and the women "computers" of the Harvard Observatory, and exposes audiences to the challenges faced by women in science during the 19th century. Performances will take place at the Jan Dempsey Community Arts Center (JDCAC) August 17-18 and 23-25 at 7 p.m. Matinee performances will be given August 19 and 26 at 2 p.m. Tickets are $12 for adults and $10 for students and seniors. The performance on Thursday, August 23, will offer a "Pay What You Wish" special, where attendees can donate a few dollars and receive admission to the show. Tickets can be purchased by calling 334-332-0881 or visiting www.auburnact.org. The JDCAC is located at 222 E. Drake Ave.
Active Auburn Hosting Ward Walks
Need new walking buddies or places to walk? Join Active Auburn for Ward Walks on select evenings in the month of August at 6 p.m.! Each week will feature designated routes through two of Auburn's wards that highlights ward landmarks and neighborhoods. The goal of these walks is to assess walkability in each ward based on an AARP walkability assessment. All walks will be led by Active Auburn staff and are FREE to the public. Ward 4's walk will be on Tuesday, August 14, beginning at City Hall on Tichenor Avenue. Ward 5's walk will be Wednesday, August 15, beginning at Dean Road Recreation Center. For all dates, locations and routes please join the Facebook Group at https://www.facebook.com/events/530223304061263/ or visit www.activeauburn.org.
Yarbrough Tennis Center (YTC) News
Visit the link below for latest updates, court availability and upcoming clinics at the Yarbrough Tennis Center!https://www.auburnalabama.org/tennis/ytc-news/
Auburn Stride Walkers
The Auburn Parks and Recreation Department is offering a walking program, Auburn Stride Walkers, for citizens who are interested in walking various City walking trails as a group.
Walks will be held on Mondays, Wednesdays, and Fridays at 9:00 a.m. Participants can walk at their own pace and distance. The Auburn Stride Walkers is a great way to have fun, make friends, and walk your way into a healthier lifestyle. The program is open to all ages and is free to the public.
Upcoming Schedule for week of August 13-20
Monday, August 13- Town Creek
Located on S Gay St.
Wednesday, August 15- Kiesel Park
Located off Chadwick Lane
Friday, August 17- Dean Road Recreation Center
Located at 307 S Dean Rd.
Monday, August 20- Kiesel Park
Located off Chadwick Lane